Careful: boring blogpost about my year ahead.
I've spent the past two weeks at home, in Germany. I finally had some time to wind down, relax a little, and read. I haven't managed to come even close to my goal of 80% couch time, but it's all good.
As everyone, I've had a bunch of "oh, and what are you up to now" conversations – lovely. This year, I resorted to a "oh, mostly work – but it was quite busy". and busy I was: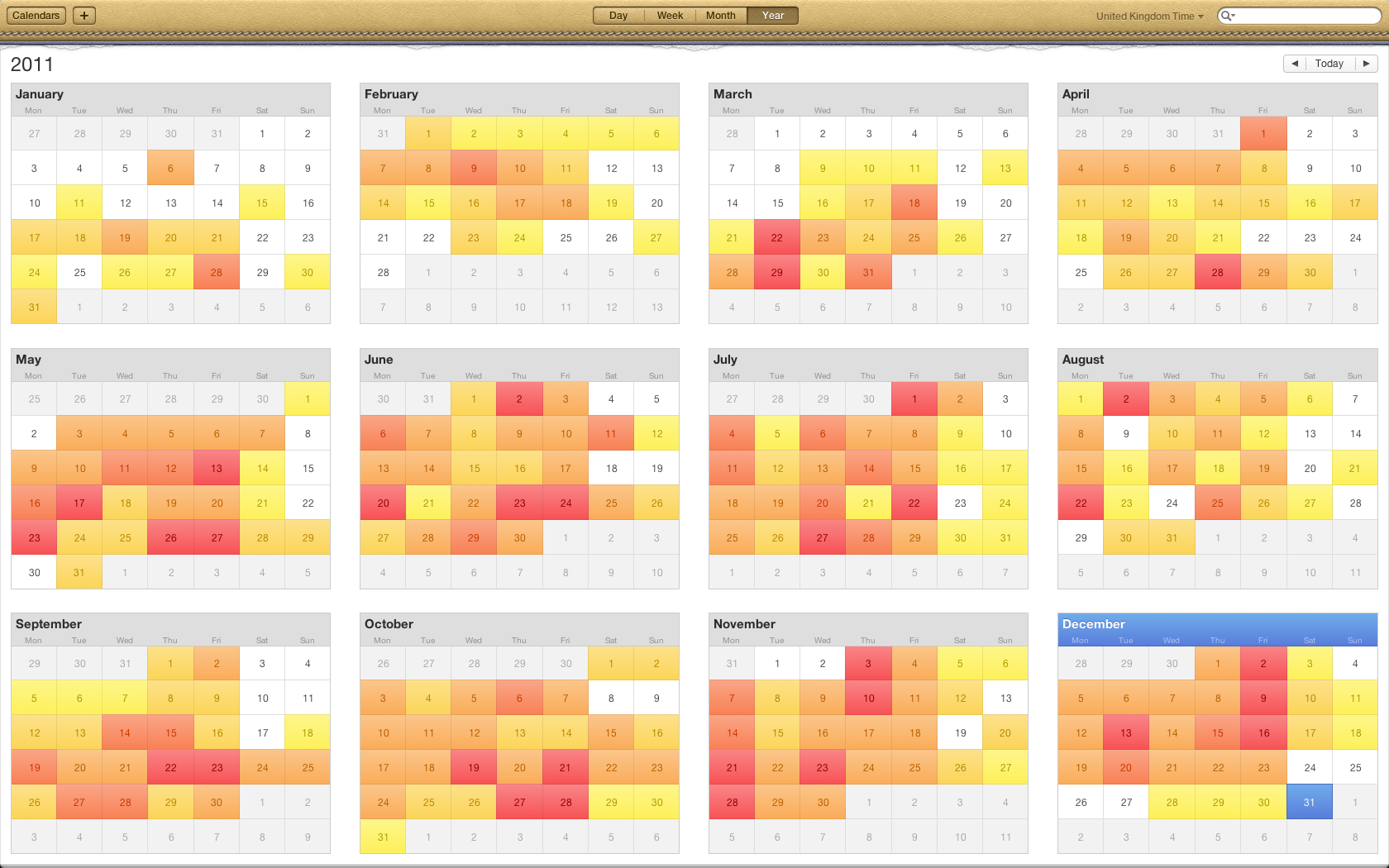 That tiny little bit of white in January was back when I was in Argentina for the break. The rest of the year – oh well:
– Seedcamp Events in Tel Aviv, London, Berlin, Paris, Barcelona, New York. I skipped Prague, Ljubljana, and Stockholm, but it was fun nonetheless.
– Our huge US trip in March to the East and West Coast, with SXSW to top it all off was definitely the biggest strain on my sanity (and nanny-capabilities with 15 startups in tow).
– Seedcamp Week in September – wow, what fun. And not much sleep.
– A trip to San Francisco, Valley, and Mexico in October. Awesome fun with tons of new people in Kundavi, and of course the inevitable brain overload from the valley. Tomaz and Jakob at Vox.io were kind hosts in SF, I will have to make this a regular somehow.
– Some smaller excursions to Germany, including the Pirate Summit, which will hopefully become a fixture in the European startup events calendar. Go Team!
– Weekend getaways to the English coast, the Isle of Wight, and of course France for skiing with the ICE crew.
I tend to judge a year on the basis of travel and change, and change there was as well:
– Isa moved to London in March and we moved to a beautiful new apartment in summer. I kid you not, it's possible to live in London and have a quiet home.
– We (Seedcamp) moved office to East London, which is awesome because lunch is more fun (less bankers and lawyers).
– I tried all possible mobile phone operating systems and am back on an iPhone. Boring.
– I started running. Somewhat. Sometimes.
– We invested in 25 companies over the course of the year. This means crazy many new friends, work pals, calls, meetings, but most of all, it means an amazing set of people to work with beyond my team. It's probably why I can bear it all.
So, all is the same, all is new – and here's to hoping that 2012 will rock as much or more. Q1 already looks like it will.
Happy new years and stay who you are. Because there is one thing that did not change in 2011:
– My friends are awesome.